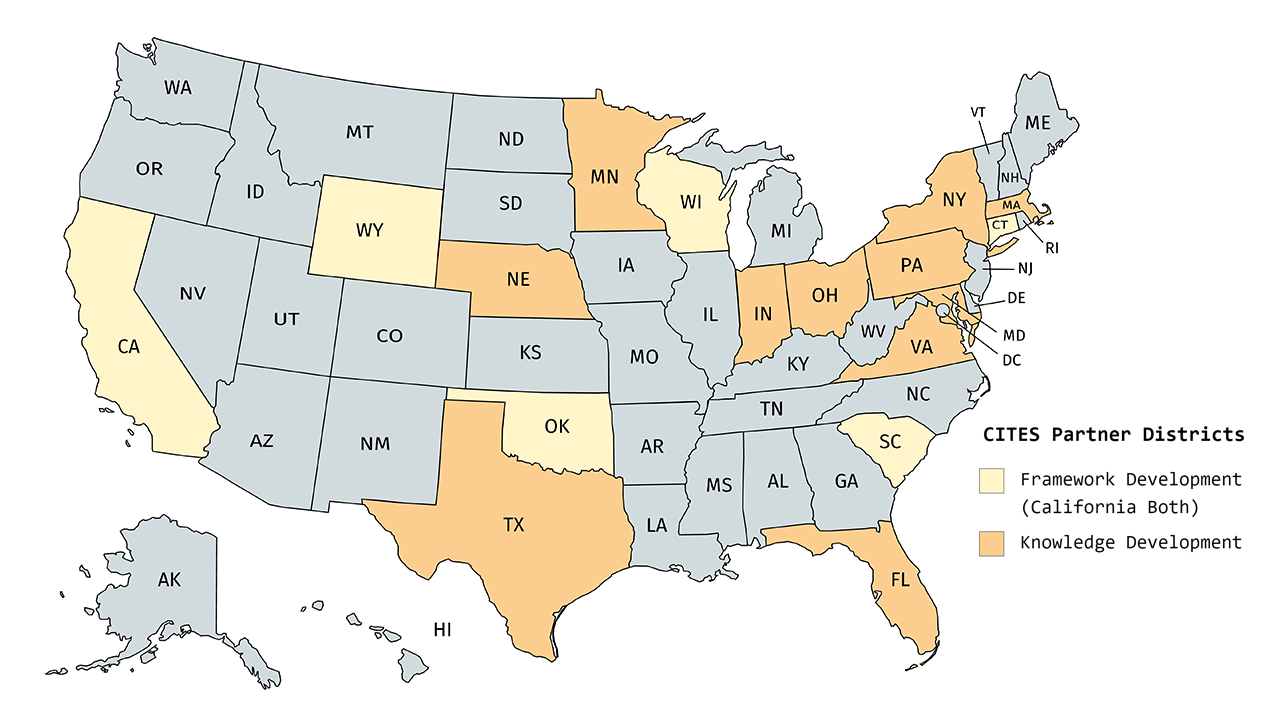 Framework Development Districts
Framework Development Districts have a long-term commitment with CITES to try out evidence-based practices and provide cyclical feedback on what works to build an inclusive technology ecosystem. What we learn together will inform the development of the CITES Framework.
Community Unit School District #89, Glenn Ellyn Illinois
Eureka Union School District, Granite Bay California
Florence One Schools, Florence South Carolina
Grossmont Union High School District, El Cojon California
Hayward Community School District, Hayward Wisconsin
Jenks Public Schools, Jenks Oklahoma
Laramie County School District #1, Cheyenne Wyoming
Wethersfield Public Schools, Wethersfield Connecticut
Knowledge Development Districts
Knowledge Development Districts serve as exemplars in one or more areas of inclusive technology implementation and are helping to inform the development of the CITES Framework.
Bartholomew Consolidated School Corporation, Columbus Indiana
Bellevue Public Schools, Bellevue Nebraska
Bethlehem Central School District, Bethlehem New York
Cincinnati Public Schools, Cincinnati Ohio
Intermediate District 287, Plymouth Minnesota
Levy County School District, Bronson Florida
Newburgh Enlarged City School District, Newburgh New York
Olentangy Local Schools, Lewis Center Ohio
Poway Unified School District, San Diego California
Tomball Independent School District, Tomball Texas
Weymouth Public Schools, Weymouth Massachusetts
Thank you, CITES districts!
During these uncertain times, educators everywhere have shown creativity, perseverance, and heart. We're so proud of our CITES districts and educators everywhere. Thank you for all that you do for learners.