Engage Families in Infrastructure Practices
Family engagement is essential for technology leaders to remove barriers to student technology use and create an inclusive technology infrastructure. Families regularly use technology with their students and are intimately familiar with their students' assistive technology and accessibility needs. Read on to learn more about how district leaders and educators can include families in infrastructure efforts.
Provide Families Access
District technology leaders provide families with adequate access to district technology tools and subscriptions.
Actions to provide families access:
Provide a parent app or portal as a one-stop-shop for family communication and information gathering.
Share a comprehensive list of digital tools the district uses with general information and login information.
Publicize the district's student privacy and security policies, and share best practices.
Establish a process for families, support staff, and AT providers of students with low incidence and/or significant disabilities to access student accounts.
Provide Technical Support to Families
District leaders provide timely, responsive, and quality technical support to families.
Actions to provide technical support:
Solicit feedback from families when provisioning technology devices and software to students with disabilities to ensure the usability and accessibility of that technology.
Host easy-to-access trainings using multiple modalities to all families for commonly used digital tools in the district, including accessible technologies and materials and assistive technologies.
Offer help desk support to all families, and ensure help desk staff are knowledgeable about accessible and assistive technologies to offer comprehensive support to families of students with disabilities.
Check out all of the CITES Family Engagement practices.
Resources
Hampton Township's Story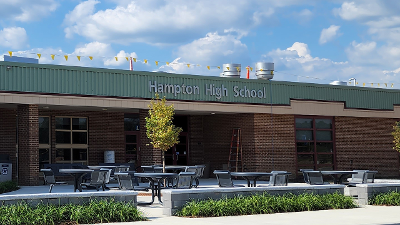 Hampton Township School District (Allison Park, PA)
Hampton Township School District is a suburban district located north of Pittsburgh, Pennsylvania. The district serves slightly fewer than 3,000 students via three elementary schools, a 6-8 middle school, and a 9-12 high school. Approximately 10% of those students receive special education services. The district has a comprehensive district plan with annual instructional goals, bolstered by professional learning, to support quality teaching and learning. Annually, Hampton participates in a human-centered design process with staff and families as they work to identify needs and create goals, including goals around technology infrastructure.
The district Technology team and Special Education department work diligently to include a variety of voices to ensure students with disabilities have access to and support needed to use the technology tools and resources they require Family engagement is key to this process and sustaining Hampton Township's technology infrastructure. This is evident during IEP and 504 meetings when the assistive technology (AT) needs are discussed and identified. As a part of this process, various options are examined to determine what salient features are needed to meet the individualized needs of the student. Staff members keep parents up to date on technology information through the district's family newsletter. Hampton strategically shifted to a new student information system, which includes portal access for families to receive communications, along with grade, attendance, and transportation information. A link to this system, along with other key technology resources are included on the district's website.
The Special Education department works collaboratively with the Technology department to provide relevant trainings for families. When families run into problems with the district's technology devices or software, they can contact the help desk for support. General family technology trainings are a part of school-wide events. In addition, the IT department provides open trainings for the implementation of AT, such as screen readers.
More generally, the middle school offers mini workshops for families about various technology topics, such as internet safety, during parent nights, and elementary teachers discuss technology learning tools during 'let's get acquainted' nights as they begin each year. The Special Education department also provides student-specific training related to AT to ensure the students, family, and all staff members can use the AT appropriately. The department also provides consultations in conjunction with the Allegheny Intermediate Unit (AIU) to match a student's needs to specific technology.
Hampton Township is also part of the Remake Learning network, and hosts a community-wide technology event that showcases innovative learning practices. There are several hundred hands-on technology events during Remake Learning Days in Pittsburgh. In 2022, the Hampton Township School District hosted an innovative learning spaces tour for 30 educators from around the region, which showcased an elementary outdoor learning space and sensory garden, along with a new middle school learning pavilion designed and built in collaboration with the Carnegie Mellon University Entertainment Technology Center and the Children's Museum of Pittsburgh.
This year, over 200 people, K-12, attended a district-wide learning showcase that featured innovative elementary student projects, the middle school reality fair, high school AP research presentations, and future career connections with local businesses. Attendees also had the opportunity to visit the Busy Bean Cafe, a student-run business endeavor created by the Special Education Department to provide in-house, real-life vocational experiences for students receiving special education services. In addition to serving coffee and food, the cafe sells t-shirts, mugs, and other merchandise created by another student-run business, Hampton Custom Creations.
References
Borup, J., Walters, S., & Call-Cummings, M. (2019). Examining the complexities of parental engagement at an online charter high school: A narrative analysis approach. The International Review of Research in Open and Distributed Learning, 20(1). https://www.erudit.org/en/journals/irrodl/2019-v20-n1-irrodl04436/1057974ar/
Gu, X., Crook, C., & Spector, M. (2019). Facilitating innovation with technology: Key actors in educational ecosystems. British Journal of Educational Technology, 50(3), 1118–1124. https://doi.org/10.1111/bjet.12786
Kiger, D., & Herro, D. (2015). Bring your own device: Parental guidance (PG) suggested. TechTrends, 59(5), 51–61. https://doi.org/10.1007/s11528-015-0891-5
Mac Iver, M.A., Sheldon, S., & Clark, E. (2021) Widening the portal: How schools can help more families access and use the parent portal to support student success, Middle School Journal, 52:1, 14-22, https://doi.org/10.1080/00940771.2020.1840269
Petko, D., Prasse, D., & Cantieni, A. (2018). The interplay of school readiness and teacher readiness for educational technology integration: A structural equation model. Computers in the Schools, 35(1), 1-18.