Provide Accessible Educational Materials
The ability to curate and share high-quality, digital learning content is identified as an important component of a robust infrastructure and crucial to delivering engaging and relevant learning experiences based on the National Education Technology Plan (2017). When high-quality educational materials are designed to be accessible, students with and without disabilities have the opportunity to gain the same information, engage in the same interactions, and enjoy the same services as students without disabilities with substantially equivalent ease of use, as described in the 2010 Joint Dear Colleague Letter by the U.S. Department of Justice and the U.S. Department of Education and supported by the accompanying 2011 FAQs.
Curriculum materials, whether purchased through a vendor or developed by school or district staff, must be accessible to students with disabilities under federal law, including the Individuals with Disabilities Education Act (IDEA) and Section 504 of the Rehabilitation Act. Requiring, publishers and developers of digital materials and technologies to ensure accessibility and include accessible features in their products is simply how schools and districts should do business.
The National Center on Accessible Educational Materials for Learning at CAST (AEM Center) provides technical assistance, coaching, and resources to increase the availability and use of AEM and accessible technologies for students with disabilities and their families. In addition to guidance on procedures for purchasing accessible digital materials and technologies from the beginning for all learners, the AEM Center provides resources on acquiring accessible formats for students who require them.
Actions to Procure Accessible Digital Materials and Technologies
Select a learning management system that includes accessibility features and its own accessibility checker.
Provide accessibility tools as an option for all educators and students to support individual learner needs and preferences (screen readers, dictation, or video tools).
Choose accessible educational materials so all students may "acquire the same information, engage in the same interactions, and enjoy the same services." (Joint Letter US Department of Justice and US Department of Education, June 29, 2010).
Requests For Proposals and Contracts
When a school or district plans to purchase products or services from a vendor, a Request for Proposal (RFP) outlines the expectations, making it the perfect opportunity to communicate accessibility requirements. Updating your district's RFP requirements before the next adoption of materials will help ensure that accessible products and services are purchased from the start. It also demonstrates a commitment to creating and sustaining an inclusive technology system.
Resources to Support Requiring Accessibility from the Start
Examples of RFP Processes with Accessibility Requirements
Request a Voluntary Product Accessibility Template (VPAT®)
Vendors should provide all potential customers with a completed Voluntary Product Accessibility Template (VPAT®) to help U.S. federal government agencies determine how well the products they purchase meet the Section 508 accessibility standards. Many organizations outside the federal government now require the submission of a completed VPAT®, also known as an Accessibility Conformance Report, in their procurement process. This includes K-12 schools and institutions of higher education. When making decisions about the procurement of a material, the publisher's completed VPAT® should be reviewed to determine whether the product is accessible. The AEM Center provides detailed information on understanding the VPAT®, including benefits, limitations, and a fictional example that illustrates what to expect and what to consider when reviewing a completed VPAT®.
Resources
Francis Howell School District's Story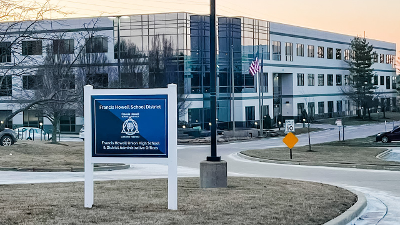 Francis Howell School District (O'Fallon, MO)
Francis Howell School District, Missouri encompasses more than 150 square miles of St. Charles County and prides itself on the focus of empowering students to be lifelong learners prepared for the future. There are approximately 16,500 students in the district. The student demographic breakdown is as follows: 77.4% White, 7.6% Black, 4.1% Asian, 5.6% Hispanic, and 5.3% of students are two or more races. 11.8% of students qualify for special education.
Francis Howell is dedicated to providing accessible educational materials (AEM) for all students. Several years ago, the district realized that leaders across departments needed to be at the table when decisions were being made regarding purchasing educational materials. Shortly after, Francis Howell joined Missouri's AEM Leadership Team. Participating with their state leaders and the National AEM Center provided district leaders the opportunity to connect with the State Department of Education and other districts across the state, plus district and state leaders from the other six AEM Cohort states.
With support and guidance from the state leadership team and the National AEM Center, Francis Howell developed procedures to help ensure accessible materials in the district. This year, the district updated the procurement process for content leaders and other purchasing agents. Now, in the procurement process, district leaders work across the agency to ensure that requests for proposals (RFP) and conversations with vendors include accessibility requirements.
In addition, the team realized that demonstrating to administrators, teachers, and staff how students can access accessible materials with assistive technology drives change. The district's general philosophy is to build a reputation with vendors so ensuring accessibility is an understood requirement as a starting point. Francis Howell now requests that vendors complete a Voluntary Product Accessibility Template (VPAT) for any digital materials, and requires that accessibility language is included in any purchase order or RFP. In addition, the district requires publishers to submit files to the National Instructional Materials Access Center (NIMAC) where they are made available for conversion to accessible formats.
Future Forward: The district plans to further develop its vetting process, including identifying some end users to screen content and tools and provide feedback on usability and accessibility. Once in place, the district can give the vendors feedback about specific accessibility issues.